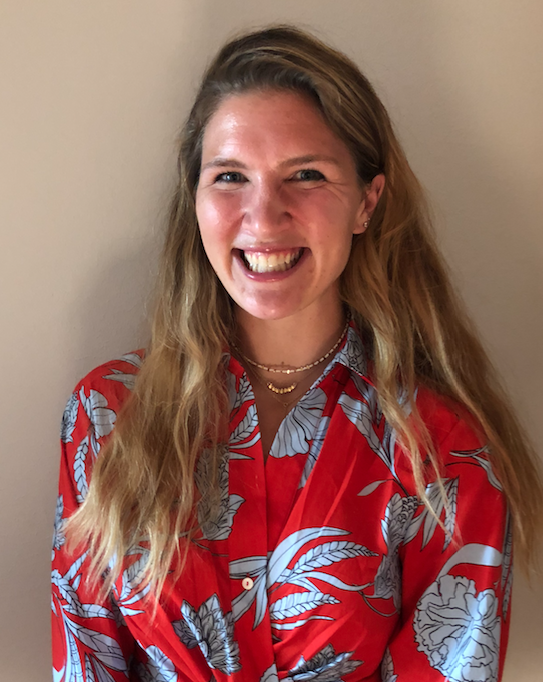 Congratulations to Dr. Megan Myers on her tenure!
"This is my fourth year at Iowa State and I feel so incredibly grateful to call Ames home.
My affiliation with the Latino/a Studies program here at ISU began upon my arrival in 2016 and some of my favorite memories on campus and in the community connect to USLS. I've volunteered with USLS 211 students at the Hispanic Heritage festival each Fall, spoken on a radio station with a USLS 211 student from Puerto Rico and the aftermath of Hurricane María, built a sustainable community partnership with Perry High School, and celebrated the success of the program—and, notably, our USLS students—at the USLS 25 Year Anniversary Symposium in 2019. At the mention of students, I want to emphasize how amazing the ISU students taking USLS courses are. I've watched them produce high-quality, informative podcasts related to the Latino/a community, cheered them on at graduation ceremonies, witnessed them share their stories and experience with visiting High School and Middle School programs affiliated with programs like ¡Al Éxito!, and learned alongside them about the growing Latino/a communities here in Iowa. I'm constantly impressed with their thoughtful, dedicated, and engaged contributions in the USLS courses I teach.
My research connections with the growing field of Latino/a Studies are clear. I recently published my first book, Mapping Hispaniola: Third Space in Dominican and Haitian Literature with the University of Virginia Press. In this work, I analyze numerous Dominican American texts that problematize and question the Dominican-Haitian dynamic traditionally viewed as antithetical. My connection to the Dominican Republic and Haiti—and also the Dominican and Haitian diasporas—is important to me both professionally and personally. I spend a few weeks each summer with my family in the Dominican Republic in a small mountain town outside of Jarabacoa and I also co-direct, alongside my husband, a community-engagement based LAS Global Seminar in the Dominican Republic. I've taught numerous literacy courses at a non-profit in Cabarete, Dominican Republic (The Mariposa Foundation), spent a summer in Miami, FL and Cap-Haïtien, Haiti learning Kreyòl, have two precious Dominican goddaughters, and am one of the co-founders of an organization that commemorates the 1937 Massacre of Haitians and Haitians of Dominican descent in the Dominican Republic called Border of Lights. As related to this volunteer-based organization, I'm currently co-editing an anthology, The Border of Lights Reader, with Dominican historian Edward Paulino.
When I am not in the Dominican Republic with my family in the Summer, we spend as much time as we can in Northern Michigan swimming, fishing, boating, and eating cherry pie. During the academic year, we stay busy in Ames. We can often be found at Alluvial sitting outside and spending time with friends, hanging out at the Farmer's Market on Main Street where my husband sometimes plays music, and just keeping up with two active daughters, Marcela and Holly Dolores, who are always on the run. I'm also an avid marathoner and baker (if you've ever been in my classes, you've likely eaten my famous mini pumpkin muffins).
It's been a joy to see the growth of USLS over the last few years and I'm eager to see how the program continues to flourish—and how our students continue to succeed!—in the future. ¡Pa'lante! "