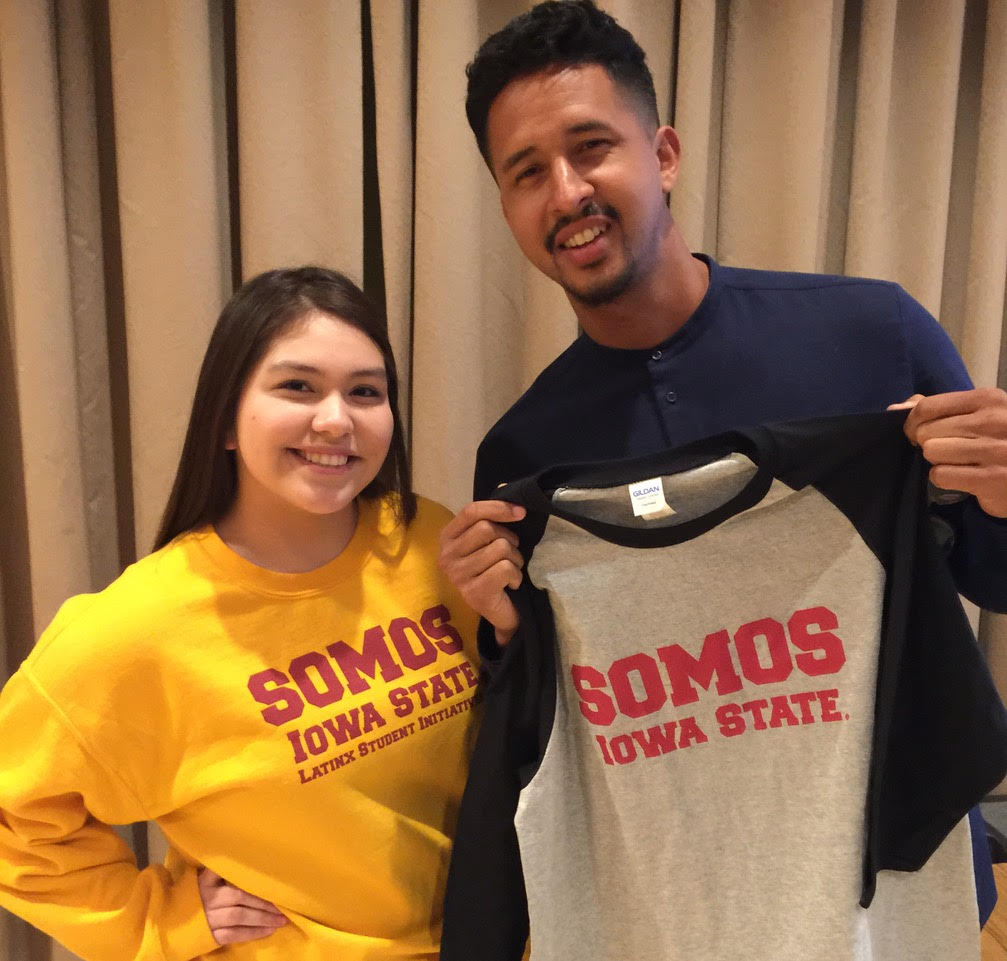 Internship Opportunities for USLS Students:
1. Iowa 4-H Youth Development/LatinX Studies Program Interns
Iowa 4-H Youth Development Program is seeking up to five student interns to work as a team
with our State and County 4-H Staff on one or more of our inclusion programs. Specifically this
internships will focus on developing or enhancing programs for Native American, LatinX and
Immigrant youth in Iowa. Some examples of these programs include
 Supporting emerging Latinx and Immigrant 4-H Clubs/Learning Communities across Iowa (e.g.:
Marshalltown, Storm Lake, Muscatine, West Liberty, Etc.)
 Supporting the planning of our two Culturally-based Youth Leadership Accelerators (CYLAs) –
Maize https://www.extension.iastate.edu/4hfiles/cyla/2018MaizeDates.pdf and Ujima

 Supporting in Latino and Immigrant youth participating in our annual State Youth Leadership
Conference https://www.extension.iastate.edu/4h/iowa4hyouthconference
 Global Citizenship Camp https://www.extension.iastate.edu/4h/2018-state- 4-h- camp-
information
 Supporting youth in one of three premiere state fair opportunities:
o 4-H Reporters https://www.extension.iastate.edu/4h/iowa4hyouthconference
o Global Citizenship day https://www.extension.iastate.edu/4h/global-civic- engagement-
programs
o New project area in Cultural Attire Category (new in 2018) at 4-H State Wardrobe
Competition https://www.extension.iastate.edu/4h/awardrobe-clothing- event
For over 100 years Iowa 4-H has been delivering research based educational programs for K-12
Youth in Iowa. Using its experiential model of "DO", "REFLECT" and "APPLY" 4-H programs are
designed to teach Healthy Living, STEM, Leadership/Civic Engagement and Communication and
the Arts. Each year Iowa 4-H serves over 100,000 youth in Iowa participate via one of our
program delivery modes.
Skills to be strengthened by internship: Positive Youth Development, Leadership, Cross-
Cultural Competence, Program Development, Curriculum Writing, Grant Writing, Community
Outreach, Research/Evaluation and Race/Ethnic Theory and Practice
Internship Location: Interns will be office at the 4-H Building on campus and will work as a
team. Some travel will be required in order to work with youth directly or conduct focus
groups. Travel costs (if any) will be reimbursed. Participants will also be asked to help lead the
Global Citizenship camp June 29 to July 1, 2018. All meals and lodging will be covered for the
camp.
Requirements/Qualifications:
Mandatory:
 Pass background check (Required for working with youth)
Recommended:
 Previous experience working with youth of color
 Spanish Speaker
Supervision:
Primary supervision will be provided by State 4-H Director/Leader John-Paul Chaisson-
Cardenas, however interns will work closely with State 4-H Product Development Staff.
2. PILA, Iowa Association of Latinx Professionals.
Our mission:  PILA is committed to supporting, mentoring, educating, and
empowering Iowa's Latinx professionals by creating an inclusive space and
providing opportunities for Advocacy, Civic Engagement, Connections to
Iowa's Employers, Networking, and Professional Development.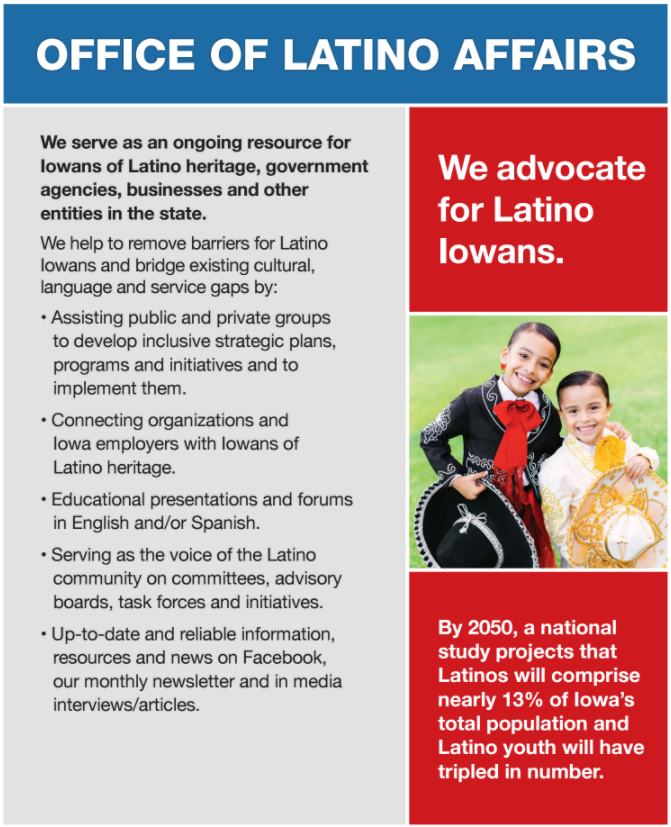 Sonia Reyes-Snyder | Executive Officer
Office of Latino Affairs | Iowa Department of Human Rights
Lucas State Office Building 321 E 12th Street | Des Moines, IA 50319
Work 515.281.4080 | Cell 515.954.5595 | Fax 515.242.6119
Sonia.Reyes-Snyder@Iowa.Gov | https://humanrights.iowa.gov/cas/la
Six-week summer internships:
 Development of marketing materials
 Outreach to Latinx Professionals in the State
 Board recruitment and on boarding materials
 Development and planning of events in the top Latinx population areas in the state (Des
Moines, Storm Lake/Denison, Sioux City, Davenport, Marshalltown, Muscatine, Perry)