USLS is delighted to welcome its latest faculty affiliate, Dr. Rodríguez at the School of Education. I have had the pleasure to communicate with her via email. Here are some fascinating shared bits: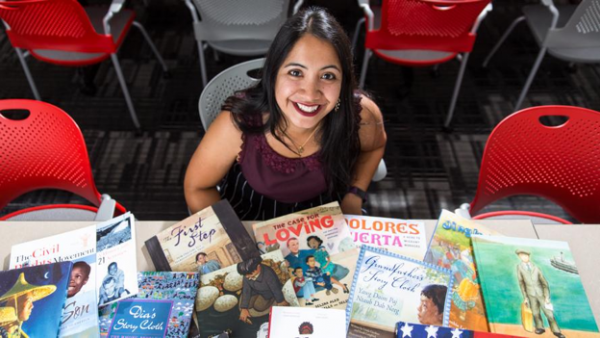 Dr. Suárez (LMS, Lucía M. Suárez):  How do you identify? 
Dr. Rodríguez (NNR, Noreen Naseem Rodríguez): To folks I don't know well, I identify as an Asian American and a Texan. For those I do know well, I am a proud Pakipina; my father is from Pakistan and my mother is from the Philippines, and they met in the international port of Houston in the 1970s. My identity as a Texan is also very important to me; I grew up in San Antonio, surrounded by bilingual and bicultural people who looked like me, with brown skin and black hair, and belonged to strong ethnic communities that raised me to be proud of who I am.
LMS: How is this important for the kind of work you do? 
NNR: Much of my scholarship is about ensuring that youth and communities who have long been marginalized in school curriculum and society are brought to the center. I study ways that educators can forefront the histories of Black, Indigenous, Asian American, and Latinx communities and also research authentic and accurate representations of these groups in children's literature and in online educational resources, like Teachers Pay Teachers. I support the preparation of future elementary educators, 80% of whom are white nationally and in Iowa that number is much higher. Many of my students constantly saw themselves in the curriculum of school and did not realize how exclusionary textbooks and children's literature were and are, so I work to make that clear to them and support them in doing better for their students in the future.
LMS: Talk about your education, in personal terms, not only where you studied and what you studied but why you chose this path. 
NNR: I was not someone who dreamed of being an educator, but many of my early jobs in high school and college involved working with children. They gave me a tremendous sense of purpose and joy, and shortly after I changed my major to education (I initially studied advertising) I learned about bilingual education. I never had the opportunity to learn my parents' languages or histories in school and I was stunned that there were programs that might offer those opportunities to children in the earliest grades. However, all my foreign language learning up to that point was in Latin and French, and in Texas in the early 2000s, the largest bilingual ed programs were in Spanish and Vietnamese. So I put my knowledge of Romance languages to work and added majors in Spanish and Linguistics and studied abroad in Xalapa, México to build my oral language fluency.
I graduated with degrees in bilingual ed, Spanish, and linguistics from The University of Texas at Austin and was a bilingual elementary educator in Austin for nine years. During that time, I completed a Master's in Bilingual/Bicultural Education at UT through a program called Proyecto Maestría, which was a cohort-based model specifically for experienced bilingual educators. After completing my Master's, I continued to collaborate with UT professors as part of the Tejano History Curriculum Project and that work inspired me to pursue a doctorate in Curriculum & Instruction that specialized in social studies education. Initially, I thought my studies would continue to focus on Latinx immigrant youth in alignment with my professional experience. But in one of my first PhD classes, I read about Asian American history for the first time in my entire life–after spending 30+ in schools, either as a student or a teacher. From that moment, I knew that Asian American history/studies would be essential to my scholarship and I've continued that work here in Iowa for the last three and a half years.
LMS: What does this means to you today as a teacher, for your students, with your colleagues, and in Iowa….
NNR: It was an honor to teach EDUC 420, Bilingualism, Bilingual Education, and Latinx Youth, this fall; this felt like a class that I was meant to teach! I reconnected with my former colleagues and students from UT Austin, who are now bilingual teachers themselves, to spotlight examples of real classrooms and practices with my ISU students, and constantly tried to center Latinx voices, whether they were students, teachers, or parents. Our course readings were almost exclusively by bilingual and bicultural authors of color. That's the kind of work I aspire to do in all the courses I teach: to share the (hi)stories of marginalized peoples through their own voices so that educators can understand the damage wrought by the exclusionary master narrative and disrupt deficit perspectives and curriculum.
Additionally, I am active in educational and Asian American communities in the state. I have been conducting interviews to learn about Asian American educational experiences in Iowa and am in the early planning stages of oral history and ethnic studies collaborations with a nonprofit in Des Moines. I regularly conduct teacher professional development for local districts, at the state level, and nationally about diverse children's literature and elementary social studies. I am excited about my current collaborations with the Smithsonian Asian Pacific American Center, the Smithsonian Latino Center, and the Library of Congress that will hopefully bring this work to a national audience of families and educators.